Everything made by the Knitting Group is made from donated materials, and our motto is
"There is love in every stitch".
Knitters meet regularly at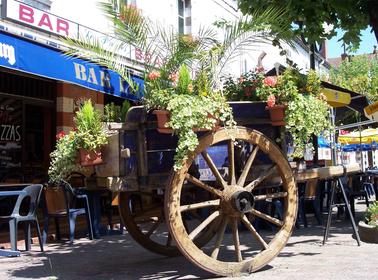 The knitting group
continue to knit for the Salvation Army, who currently need hand-knitted garments for HMP Bronzefield, Ilford Homeless Project, Ilford Baby Bank and the Lovelight Project in Eastern Europe.
All items are delivered personally to the Salvation Army by Marion to ensure safe arrival, no costs involved.
Marion showed the meeting a wonderful
Thank You card from the Salvation Army and a wonderful selection of knitted garments.
Photos of these to update the Blog.
Marion further advised us that one member has started to collect second-hand clothes to donate, but that costs were involved in sending these items.
Marion will look into whether the Salvation Army has a collection point in France.
If you do have any unused and spare wool which you no longer want and would like to donate to this group, please bring it along with you to the GLC lunch. Thank you.

For meeting dates please and more information
about any of the above, please contact Gascogne Ladies Club secretary:
or you join the blog here: